Memorial Gift Program
The Memorial and Honor Books Program is a plan whereby friends of BYU can remember loved ones or pay tribute to friends and relatives through contributions to the Harold B. Lee Library.
Each contribution of up to $50 ($10 minimum) will place one book in the Library.
Acknowledgement of your gift will go immediately to the family of the deceased or to the honoree.
A special bookplate will be placed in the book giving the name of the donor and the person being memorialized or honored.
A receipt will be sent to the donor.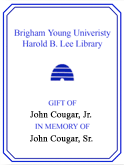 To initiate a memorial or honor book contribution, download and print the Memorial form and mail it with your contribution to:
Memorial Program
2060 Harold B. Lee Library
Brigham Young University
Provo, UT 84602
Last Modified: July 15, 2013